listening: yeah yeah yeahs, fever to tell (entire album thanks to rhapsody)
Just an FYI, this is what I feel like right now.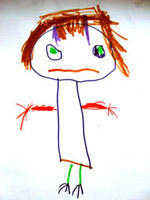 I can feel it coming.
Ah, PMS...what the christ would I do without you--other than live a normal and happy life. Around this "time of the month" (god I hate that expression), I get overly emotional and sooooooooooooo teeeeeeeeeeennnnnnnnnnssssssssseeeeeeeeeee. I just want to scream at everyone until I cry and can't stop. Life feels overbearing and dull and boring and listless. I want to sleep and sleep and sleep but I can't and end up watching TV and obsessing about a boy who will never fall in love with me.
I completely forgot about radiohead. Completely forgot. I have become increasingly bored with my music selection lately (having yet to get an mp3 player--I think it's going on the birthday list). Driving to work Monday was a death defying dance of driving and digging through the riffraff group of CDs that resides in my car. Here is a list of what I found:
Beta Band, Heros to Zeros
assorted, Laurel Canyon Soundtrack
U2, How to Dismantle an Atomic Bomb
Frank Sinatra, Taking A Chance on Love
Poe, haunted
assorted, cream ibiza 2001
Coldplay, Live at Maida Vale 25.03.03(illegal, illegal, illegal)
morcheeba, big calm
Led Zeppelin, Physical Graffiti
mystery disc #1: back 2 the future 80's, some kind of weird bad house music--whose is it?
death cab, transatlanticism
sarah mclachlan, remixed
Coldplay, Rush of Blood the the Head (does not play, one of three)
Sander Kleinenberg, Global Underground Nubreed 4, CD 1
mystery disc #2 and #3, apparently blank burned CDs that do not play, one may be nick's annual birthday mix. (update, one is a bad copy of transatlanticism, probably made at nick's house for Neil)
Paul Van Dyk, Reflections (sucks BTW)
Alanis Morrisette, supposed former infatuation junkie (does not play)
seven mary three, rock crown (Neil, this is yours)
massive attack, mezzanine
snow patrol, final straw
And finally, radiohead, ok computer.
Oh christ what an album. It's just one of those albums you can put on and drive to and get lost in. Makes me think of Adawg Capasso. Makes me think of fall. Makes me happy to be angry and frustrated. As does the fantastic karen o of the yeah yeah yeahs. I am so blaring date with night on the way to work tomorrow.
I don't mean to be so angry and pissy, ya'll. I'm sorry I'm not my normal, chipper self.
song for Neil: cross bones style, cat power (find it)